14 Oct, 2019
By Johny
2 Comments
Motorcycle with Carbon Fiber and 3D Printing Titanium Alloy Backswing Arm
Carboni e mtalli is an innovative start-up company headquartered in the heart of Motorvalley, Italy, that showcases a radical concept motorcycle in honor of the 50th anniversary of the moon landing. The bicycle is based on the extensive use of composite materials and metal additives, including carbon fiber body and 3D printing of titanium alloy parts for rear swing arm production.
Massimo Bercella, co-founder of Carboni e mtalli: "In 1969, man first set foot on the moon. Fifty years later, we want to pay tribute to this historic achievement in order to do the best in the world: combine unique materials and advanced technology with handicraft and enthusiastic design. "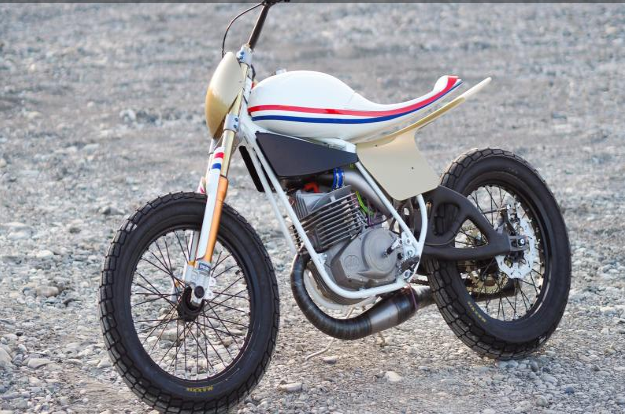 Michele antolotti added:"Our business involves high-tech manufacturing processes, and we want to demonstrate the impact of space related technologies on traditional markets such as motorcycles."
Based on the old KTM 250GS, Lunar Project reconstructed the bicycle in a futuristic way. It combines the old details (such as steel frame and large 2-stroke engine) with the most advanced technology available on the earth, and uses components made of fibre composite materials and metal additives for structural applications, such as carbon fibre sub-frame and world-class carbon fibre. Titanium alloy back swing arm and anti-rust front fork holder for 3D printing.
They concluded that:
"This project is a statement that we want to show that even mature products, such as motorcycles, can be innovated by applying space-related technology and design freedom. The technological rewards of Apollo are enormous, and we are at the dawn of a new era of space exploration, and we feel strongly motivated to contribute to the celebration of the greatest conquest in human history. Winning the Best Show Award is unexpected and inspires us to take the next step.
The company will now showcase the bicycle in a series of events in 2019, while actively participating in a number of new projects.
(Sourcing from cnfrp)

Add a Comment
Your email address will not be published.Required fields are marked*