What is Carbon Fiber prepreg?
Carbon Fiber prepreg is a composite material which is made of reinforced materials (carbon fiber yarn, epoxy resin, release paper) by coating, hot pressing, cooling, laminating, coiling and other processes.
What is the Carbon Fiber prepreg used for?
When making carbon fiber products,we need to use the Carbon Fiber prepreg as the intermediate material. Whether the carbon fiber products can have excellent mechanical properties depends on whether the prepreg can play a connecting role.
The products of Carbon Fiber UD prepreg include paper tube, release paper or PE film, resin and fiber composite, release paper, as shown below: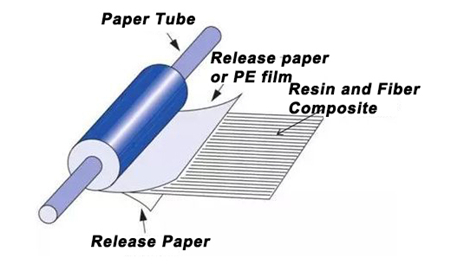 Advantages:
good mechanical properties.
less product defects.
control the volume content of fiber accurately.
good consistency between performance and processing characteristics.
the best performance / weight ratio.
Classification:
Unidirection prepreg(UD):

 

Fabric prepreg:

 
(1)Plain: poor covering performance; high fiber bending rate.

 

(2)Satin: good covering performance; low fiber bending rate.

 

(3)Twill: medium covering performance; medium fiber bending rate.

 

(4)Non bending fabric (multi axial fabric): medium covering performance,no bending of fiber.

 
Preparation process of Carbon Fiber prepreg:
Solvent based process:

 

Only suitable for preparing fabric prepreg.

Two steps hot melt prepreg process:
(1)Preparation of resin film:

 

(2)Impregnation:

 
One step hot-melt prepreg preparation process: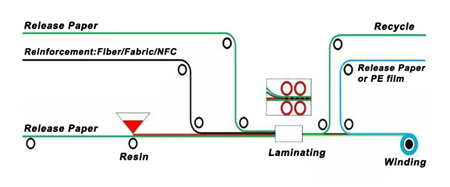 The hot-melt process is the main process to produce Carbon Fiber prepreg.For one-step and two-step processes,the comparison is as follows: