23 Feb, 2020
By Johny
2 Comments
Africa and the Middle East will add 894MW of wind power in 2019, and is expected to add 10.7MW in the next 5 years
    Africa and the Middle East added 894 MW of Wind Power in 2019, 7% decrease from 2018. The total installed capacity of Wind Power in this region has exceeded 6 GW, of which Africa accounted for 89%.In the next five years, this region will increase by 10.7 GW Wind Power installed capacity, the increase mainly comes from South Africa (3.3 GW), Egypt (1.8 GW), Morocco (1.2 GW) and Saudi Arabia (1.2 GW). Wind Power will become a price-competitive and sustainable energy source in Africa and the Middle East, not only promote the modernization of electricity in the region, while also creating jobs and promoting economic development.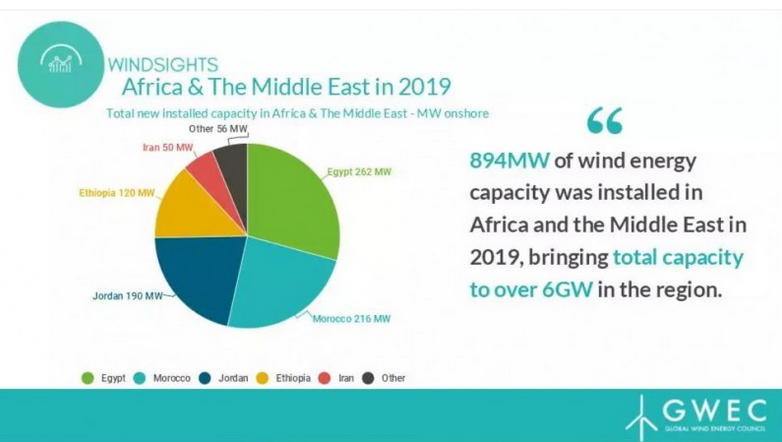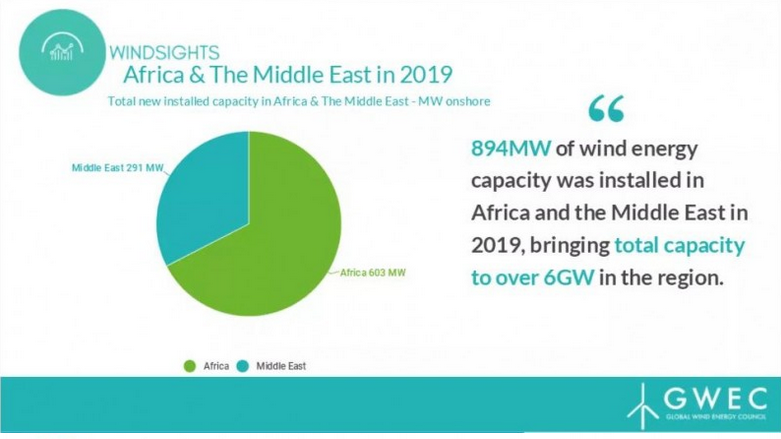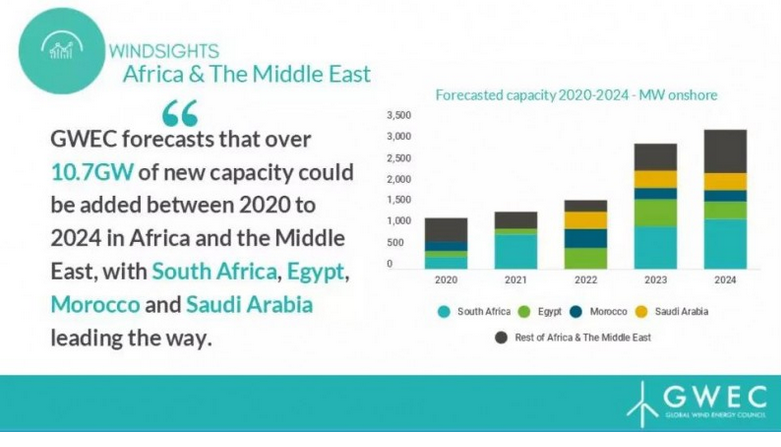 2th February 2020, Brussels, Belgium: According to the latest data from the Global Wind Energy Council (GWEC), new wind power installations in Africa and the Middle East in 2019 were 894 MW, a 7% decrease from the 2018 new installed capacity (962 MW). However, GWEC expects that the new installation opportunities in the region will grow rapidly in the future. During 2020-2024, the new Wind Power installed capacity will reach 10.7 GW, which is equivalent to 1.7 times the current total installed capacity in the region. Countries with high new Wind Power installed capacity in Africa and the Middle East in 2019 include:
Egypt (262 MW)
Morocco (216 MW)
Jordan (190 MW)
Ethiopia (120 MW)
    South Africa has no new installations in 2019, but the country is still the largest Wind Power market in Africa and the Middle East, accounting for nearly one-third of the region's cumulative Wind Power installations. In the next five years, South Africa will continue to lead Africa and the Middle East with new installed capacity of 3.3 GW. The additional capacity will come from projects under construction in Bid Window 4 that exceed 1.4 GW and tenders launched under the newly revised Integrated Resource Plan (IRP) in 2019. According to the plan of the integrated resource plan, South Africa will add 14.4 GW of Wind Power installed capacity between 2022-2030.
    The Wind Power development potential of other sub-Saharan African countries is also huge. The developable wind energy resources of the members of the Southern African Development Community (SADC) are 18 GW, which are mainly distributed in emerging markets such as Zambia, Tanzania, Namibia and Mozambique.
North Africa and the Middle East will have a number of mature projects in place by 2020, thereby ensuring the rapid growth of the region's wind power market. GWEC estimates that the countries with the highest installed capacity in the next five years are: Egypt (1.8 GW), Morocco (1.2 GW), and Saudi Arabia (1.2 GW).
     Jon Lezamiz, Director of Market Development for Siemens and Gamesa Africa and Chairman of the GWEC Africa Working Group, said: "Africa and the Middle East have abundant wind energy resources. Our wind power industry has promised to help decision makers here recognize wind power as an energy system and economic development belt. In some countries with better policy conditions and project development plans, we see that local supply chains are starting to take off, such as Siemens-Gomez's leaf factory in Morocco, which not only creates jobs for the local area, but also Opportunities for economic development. In this region, we see many exciting developments, such as the development of complementary renewable energy projects, increased interregional cooperation, and the start of the corporate electricity purchase agreement (PPA) market. All of us have confidence in the market prospects of the region. However, the potential of wind power development in the region has not been fully released. Our GWEC Africa working group will assist local governments and relevant important institutions to establish a reasonable framework and formulate project plans to ensure that Long-term stable development of wind power. "
     GWEC CEO Ben Backwell said, "If Africa and the Middle East are to fully exploit their wind power potential and benefit from it, there is an urgent need to address current development challenges such as power policy and power market design, grid infrastructure bottlenecks, and power sales risks. GWEC's "Africa Wind Energy Manual" can help policy makers to meet these challenges and pass on the experience accumulated in the industry to every country in the region. This is necessary because the region will be in the next ten years. Both population and GDP will increase significantly, and the demand for electricity will also increase. Wind energy is a cheap and reliable power source that can be distributed, which can not only meet the growth of electricity demand, but also greatly improve the coverage of electricity consumption.
sourcing from GWEC 
Add a Comment
Your email address will not be published.Required fields are marked*